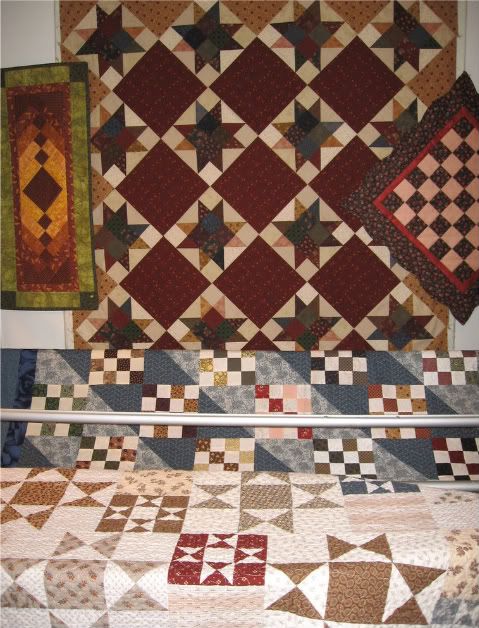 I'm back!! Did ya miss me? :) Thought I would post a photo of my latest attempts.......Two little wall hangings......The Random Ohio Stars is another finish! The pattern I"m sure everyone is familiar with is by Bonnie Hunter at
Quiltville.com
LOVE her site she has so many wonderful free patterns. If you've never been to her site it's a must see!! I also made another one of Bonnie's called Four-Patch Furrows. (blue one in the middle) It's waiting to be quilted. The Scrappy Stars in progress you see on my design wall........not sure what I'll do for the borders on that one yet. I"ve been tagged by
Bumble Beans
she wants me to list 6 random things about myself......I"ll play along! :) Hmmmmmmmm....thinking. OK here goes.


I've been chiseling away at a 3 pound Hersey bar I received as a gift over the holidays.....Mmmm yummy!





I have a Harley Davidson Sportster that I haven't ridden in over 5 years!






I thought it would be fun to have eyelash extensions......LOL......you know......treat myself to something a little different.....Well, let me tell ya......it was different alright! They bugged me so much I had them removed the next day! LOL (never again lesson learned ).






I sat on my glasses.....had them fixed but......they still seem to tilt to the right.....gonna have to take them back in for another adjustment. sigh......






I always mix Dr Pepper with my morning coffee. Ok guys all together now EEEEEeeewww!!!!!!!






My second toe is longer than my big toe!
I won't tag anyone but, if you would like to play along consider your self tagged! LOL
Happy Stitching. :)
Shar