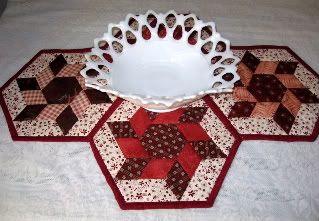 If you are interested in making these blocks. I hope this tutorial will be useful.
You will need: 1-(3 1/2 x 4 inch) rectangle... 3-( 2 inch strips) 18 inches long,...6-(2 x 6 inch) rectangles.
1. Fold 3 1/2 x 4 rectangle in half lengthwise. Trim at a 60 degree angle from folded edge to raw edge on both sides.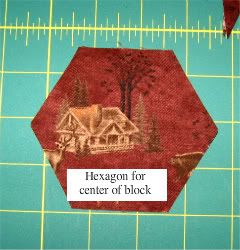 2. Open rectangle and press.....It is now your hexagon for the center of your block.
3. Sew the 3-(2 inch wide strips) together........they need to be atleast 18 inches long.
Note: The bottom fabric is the background.....The middle fabric will be the star points.
The top fabric will be inner diamond.
4. Trim strip set at a 60 degree angle.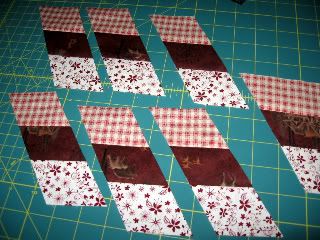 5. Cut 6-(2 inch segments) at a 60 degree angle.
6. Sew a...2 x 6 rectangle to each segment. For a total of 6 units.
7. Trim the right side of unit at 60 degree's, 1/4 inch outside point of center diamond.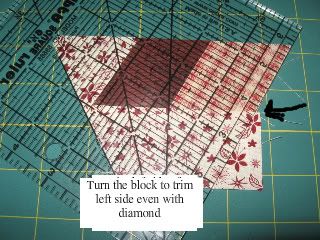 8. Turn the block to trim the left side even with the diamond.